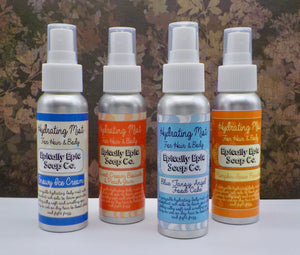 Argan Oil Mist for Hair and Body~
A sprayable hydrating body mist with a blend of antioxidant rich oils and vitamin E that leaves your skin feeling silky soft and smelling epic. Spray on wet or dry hair to boost shine and fight frizz. It's perfect to use as a light perfume or for layering with my other scented products.
Directions:
Shake well! Mist all over your body for light, non-greasy moisture. Spray a little hydrating mist on wet hair and comb through, concentrating on the ends, or spritz on dry hair for a boost of shine and fragrance. It made my curly hair shiny, soft, and smooth.
Choose from the following scents. See below for scent descriptions.
Almond Orange
Blue Tansy Angel Food Cake
Eggnog Pancakes
Hot Cocoa with Marshmallows
Pandan Cake
Pumpkin Spice Paradise
Snowy Ice Cream
Sweet Cream Biscuits & Peach Jam
Vanilla Nutmeg
Listing is for one 2.5 oz. recyclable aluminum bottle of hydrating mist.
100% VEGAN INGREDIENTS: Argan Oil, Rice Bran Oil, Fractionated Coconut Oil, Cyclomethicone, Jojoba, Olive Squalane, Fragrance and/or Essential Oils, Vitamin E.
::: SCENT DESCRIPTIONS :::
Almond Orange : Comforting almond and refreshing orange essential oil. An un-spiced fall scent.
Blue Tansy Angel Food Cake : Blue tansy essential oil (the prettiest scent, like a slightly flowery orange creamsicle) paired with delicate white angel food cake.
Eggnog Pancakes : Pancakes, but you put in eggnog instead of milk. Maple, nutmeg, and a little bit of rum.
Hot Cocoa with Marshmallows : It's my family's tradition to drink a cup of hot cocoa and open a present on Christmas Eve night. I love mine with piles and piles of marshmallows.
Pandan Cake : Chiffon cake flavored with South Asian pandan leaf. Pandan is lightly grassy and earthy, sweet and coconutty, with hints of rose, almond, and vanilla.
Pumpkin Spice Paradise : Bring me all the pumpkin spice! Leaning in to the goldenest pumpkin spiciest pumpkin puree scent ever!
Snowy Ice Cream : A softly wintery holiday scent with marshmallow, white chocolate, vanilla and a hint of peppermint. A seasonal best-seller.
Sweet Cream Biscuits & Peach Jam : Salty sweet cream biscuits, vanilla, and fresh peach jam. Inspired by a Jeni's Ice Cream flavor.
Vanilla Nutmeg : Another seasonal favorite. Warm and subtle, just vanilla and nutmeg.