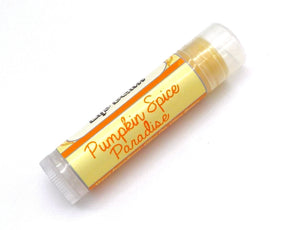 Pumpkin Spice Paradise ~ Bring me all the pumpkin spice! Leaning in to the goldenest pumpkin spiciest pumpkin puree flavor ever!
Epically Epic Lip Balm ~ My lip balm formula has luxuriant olive squalane, extra virgin olive oil, olive butter, and organic coconut oil. It's glossy, creamy, and 100% vegan :)
Listing is for one .15 oz tube of lip balm.
VEGAN INGREDIENTS: Olive butter, olive oil, candelilla wax, virgin coconut oil, jojoba, olive squalane, shea butter, castor oil, vitamin e, flavor, natural stevia leaf sweetener.